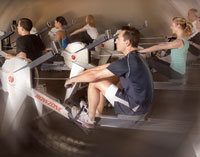 RowZone Franchising was officially launched in the Winter of 2009 and, in the short time since inception, we've received hundreds of franchisee inquiries and have independent franchisee studios now open in Texas as well as few more here in Philadelphia.
Contact us to visit one of our locations.
Here is our dream and your opportunity:
You learn the RowZone® Method.
It's a fun, effective workout that burns calories and builds camaraderie using what we call the "Crew effect". It works and our bustling studios and happy, healthy clients are testament to that. Plus, the RowZone story plays well in multiple media formats! Watch our videos, see the news coverage, read our blog and follow us on facebook…… this is real viral buzz and word is spreading.
We build out a complete RowZone Fitness Studio for you.
You only need 800 sq ft of real estate. We build it out, soup to nuts….. all the machines, the brand identity, registers and membership management / accounting software. Everything (except the local membership which you build using these resources) needed to be a successful fitness franchise owner!
We build a unique website designed for your specific location.
This is your virtual studio where you can update your members with news from your franchise. We teach you (with real examples) how to use the website/social media as a tool to build team spirit, create loyalty and to fill studios.
We provide an affordable entry into a billion dollar a year fitness industry.
The investment needed to open a complete ready to row / ready to fill RowZone Fitness Studio is only $80K. Please compare that to the $300,000+ needed by other fitness franchise companies. RowZone franchising includes a team of industry veterans on hand to help you from start to finish. We all pull together and practice the "Crew effect" here too.
We help you to realize your potential.
It's the hard lessons I learned opening up my initial fitness studios that make this a real opportunity in the right hands. I've done the work and the fact is, you only need around 60 paying members to break even and ONLY 125 annual members to completely cover the cost of this franchise in just one Year.
FACT: The numbers are real…..
FACT: The opportunity affordable…..
FACT: The workout fills studios…..
FACT: The media buzz is building…..
FACT: Our franchisees are happy and signing up members…..
We recommend you come see what we've built here in Philly. It's really something special!