By petar at May 17, 2011 | 12:19 pm | Print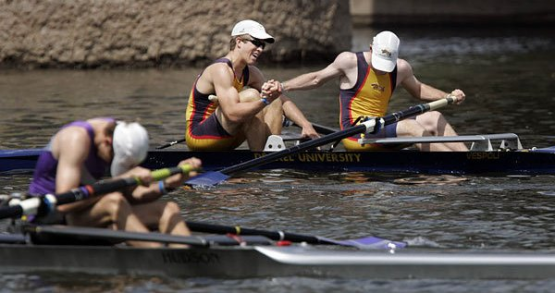 Hey RowZoners, Mike again. This time I decided to explain exactly what it takes to be as fast as you can be, and know that you cannot work any harder.
Racing doesn't have to be about who's in better shape, it's all about who is willing to fight for that finish line. Who is willing to put it all on the line? Steve Prefontaine (who is still the only athlete in American History to hold every American Track record between 2000 and 10000 meters) once said, "A lot of people run a race to see who is fastest. I run to see who has the most guts. Who can punish himself into exhausting pace, and then at the end, punish himself even more." Though he never won an Olympic gold at the Munich Olympics, had his life not been cut short, he was the favorite to win at Montreal on the next go-around.
What can we learn from Steve Prefontaine? The will to win supersedes everything else when you're racing. When you are making a push to the finish line, you can push yourself beyond any limit you had previously thought possible. Some of you notice it on the erg machines. You can get one or two splits faster than you ever did before, and it's usually at the end of the workout during your final sprint.
A champion always knows there's a little extra in the tank even when every part of your body is screaming that there's nothing left. A champion doesn't make excuses, because he or she knows that, Just like Vin Diesel said, "Any racer, any REAL racer knows that it doesn't matter whether you win by an inch or a mile, winning is winning." It doesn't matter if last time you beat them you won by 20 seconds. If they win by .001 seconds this time, they still won. Mike Teiti, Cal Berkley and the US National Rowing Team's head coach, has always said, "The only thing that matters is who wins LAST."
What does this mean for me, Mike? It means no crying when I yell at you!

. Just kidding! It's your party, you can cry if you want to (I made a funny!). What this means, is that when it comes down to it, are you going to give in to your pain, or push though it? Are you going to finish your workout harder than when you started? If you're sore, are you going to avoid Petar's class? Probably, but that's just being smart

. It comes down to: will you make the hard choice, or the easy choice?