Our 45 minute workout led by expert instructors will: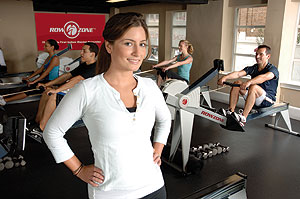 Burn Fat
Build lean muscle
Improve your core strength
Improve your posture
Improve your flexibility
Increase you endurance
Make you feel great!
The RowZone® workout is a unique blend of conventional rowing and full body toning exercises.
One of the biggest problems that people run into when exercising is repeating the same workout over and over again. When this happens your body gets used to the workout and it stops becoming effective.
Your body figures out a way to complete the workout using the least amount of energy. This causes your workout to plateau and in turn see less results. I developed the RowZone® workout to give people a fitness alternative.
Our upbeat classes will challenge your mind and body while giving you a workout that you will never forget. We offer several classes throughout the day. So whatever your schedule might be, we have you covered.
Change your routine today and see results tomorrow. Besides burning 600-800 calories, the RowZone® workout is low impact. So you can get all of the benefits of running, squatting, and lifting without the wear and tear on your body. Feel better and live better.
The most important part of our workout is what we call The Crew Effect.
The Crew Effect is the positive energy and mentality that our staff brings to the workout. When rowing every member of the crew must count on each other or risk failure. We are bringing that same energy into our workout. Every class has one perfect goal, and that is that the whole class, start and finish together.
We have created a positive environment where everyone is trying to help each other succeed. If you are new to RowZone® instead of feeling pressure to keep up with the class, you will be encouraged and supported.
It is time to feel good about getting in shape. Be a part of the RowZone® team!
Exercise
Calories Burned
Calorie Burn Rates approximated on 155 lb. person exercising at moderate rate. Because many physical and genetic factors vary, use for comparative purposes only.
per hour
per RowZone Session (45 minutes)
RowZone Indoor Rowing
600-800
450-600
Swimming Laps
490
368
Stationery Bicycle
386
290
Weight Lifting
340
255
Walking on Treadmill
246
185